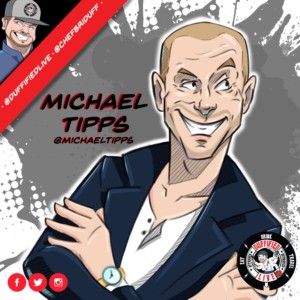 In his debut episode of "Duffified Live," Chef Brian Duffy, known for his appearances on "Bar Rescue" and NBC's "The Today Show," welcomes you into his crazy, insane world of food, shenanigans, and debauchery!
This week, he is joined by fellow "Bar Rescue" alum, mixologist Michael Tipps. These two, though they never appeared on an episode of the show together, have been friends for years and share a ton of restaurant and bar war stories.
Things you should do and not do when enjoying a night out as both a patron and an employee, Bar Rescue stories, philosophies on the bar business, and most importantly, Tipps' time on the daytime soap opera, "One Life To Live."
He's also joined by his buddy "Rollergirl" (Kathy Suzewits) of the "On The Beach" podcast here on Radio Influence. These two have been friends for a few years and talk about how they met at the Bacon Festival in Tampa, FL and the fun and frivolity that ensued.
Special thanks to The Stein & Vine in Brandon, FL for allowing us to record the first show in your great establishment. If you're in the Tampa Bay Area, make sure to stop in! They are located it 827 W. Bloomingdale Ave and let them know you heard about it on Duffified Live!