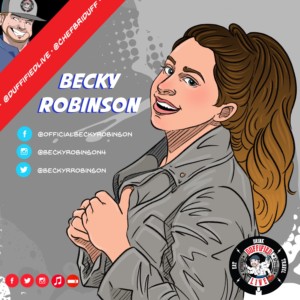 Becky Robinson Comedian/Writer/Actress/Host
I love to laugh and I love comedians! For the last year, I have been following Becky Robinson and one day, I see a pic posted by my brother Mike Duffy from Ugly Brothers Studios, to Instagram about a new show that they were doing that involved Becky. I immediately reached out to get her on the show.
Becky Robinson is a comedian/writer/actress/host/supermodel/digital media expert. She was born in Portland, Oregon and is the youngest of three (aka "the accident"). Becky spent the majority of her childhood doing gymnastics and impersonating Fat Bastard. In high school, she won the award for most likely to star in a reality TV show. With stars in her eyes and chicken tenders in her hands, Becky relocated to Southern California to study Business and Television/Theatre at San Diego State University. She began doing stand-up at the Comedy Store in La Jolla and was asked to feature her act at TedX Talks SDSU before graduating in 2013. She moved to Los Angeles and has since become the city's comedy darling.
Becky has been invited to feature her comedy on Laughs on FOX and NuvoTV's Cabo Comedy Festival Fresh Faces. She was cast as a lead in the Oxygen pilot, "Straight Up with a Twist," and worked on the Comedy Central pilot, "Not Safe With Nikki Glaser." Becky has also worked on YouTube strategy for The Tonight Show with Jimmy Fallon, Late Night with Seth Meyers and Jimmy Kimmel Live!
Currently she is headlining the "American Fuckboi" tour and working on the first season of "Funny Dance show" on E! Based on the hit show developed at The Comedy Store, "The Funny Dance Show" combines comedians and world-class choreography in an hilarious dance battle for charity
Becky & I chat about her growing up in the Pacific Northwest, her career, family, and the current state of comedy with political correctness and her characters that she embraces in her acts. Becky is a HUGE personality with a laugh that is infectious. (I think I even made her laugh a few times.)