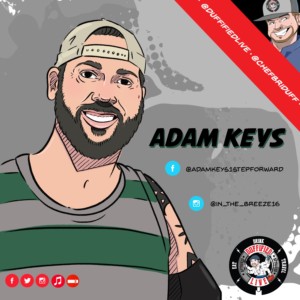 Adam Keys Retired Army Sgt.
Adam Keys….. ADAM Keys….. ADAM KEYS!!!! The name is spoken and I hear inspiration, motivation, and drive.
Adam returns to Duffified Live to chat with Chef Brian Duffy to talk about his new love of stand up comedy and his passion for making people laugh. Oh yeah…..he just climbed Mt Kilimanjaro and hand cycled both the Boston Marathon and the Chicago marathon. I may have forgotten to mention that this was all done on 11" prosthetic legs.
Adam is a brave man, a true warrior, and a loyal being. Listening to him talk is a breath of fresh air in pride and honor. To hear him speak about his fallen brothers during his multiple tours for the Army is eye opening, especially in a day where there is so much negativity and anger.
I am a huge fan of Adam. I am excited to see what the future brings for him.
This episode of Duffified Live is brought to you by Care/Of. It's a monthly subscription vitamin service that delivers completely personalized vitamin and supplement packs right to your door. Take advantage of this month's special New Year offer! For 50% off your first month of personalized Care/Of vitamins, go to TakeCareOf.com and enter DUFFIFIED50.
This conversation walks through Michele's history as a chef and where she began all the way to her time on Food Network Star. An avid traveler and lover of all things food, it brought her to Providence, where she was the Executive Chef for the Central House, which is also where her tenure as a day to day chef brought her to the realization that she wanted to pursue more of a life for herself. Leaving the helm of a kitchen to purchase a house in the Hudson Valley of New York, private cheffing, and making some badass cutting boards. Michele is also working with Mary Stuart Masterson (Superhottie "Watts" form one of CBD's favorite 80's movies Some Kind of Wonderful).
Check out this episode and just listen to two chefs chat!