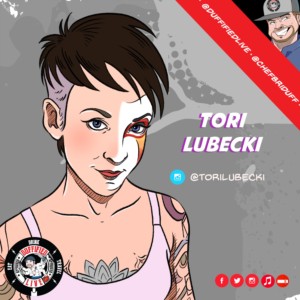 Tori Lubecki Former Aerialist of Cirque du Soleil
Dinner with ten chefs, all good friends, no shortage of personalities, a group of very dynamic individuals all sitting down for a meal of Mongolian hot pot when a five foot tall energy force walks through the door.
Tori Lubecki, introduced to me by my dear friend Panini Pete, was born in Alabama and got the itch to perform when doing ballet and dance as a two year old. She progresses through life, becomes a vegetarian, and tries yoga, doubting it's benefits until the realization hits her…. Wow…. this stuff has changed my life!
Chef and Tori spoke during this meal for a few hours and have been following each other on social media since that time. There are times when you meet someone and are generally amazed by their stories. It may not be a big deal to them but to the onlooker…. it's great!  She has spent the last nine years as a lead aerial artist for Cirque du Soleil and I had to hear more!
Tori trained in ballet at the Alabama School of Fine Arts, Joffrey Ballet and City Ballet of San Diego. She has been performing an aerial straps duet for Cirque du Soleil since 2008 and was the Resident Choreographer for Spiegelworld's Absinthe for five years. Her nonprofit organization, Philanthropy ENT uses performance art to generate funds that help liberate victims of domestic violence. She has experience producing, writing and directing live productions and most recently has completed a 200 hour Yoga Teacher Training through All Yoga in Bali. Her extensive background in performance art and yoga will help our students to connect with themselves on a deeper level and access the creativity and peace that lies dormant within them.
This week's episode of Duffified Live is presented by CAKE, which is is the Point of Sale system that lets bar & restaurant owners focus on the guest experience. Stop worrying about tracking every sale  – CAKE does that for you. You can automatically save information and review it later, from anywhere. That means you can actually take days off, which can be pretty rare in the restaurant business. So, restaurant owners, go to trycake.com/duffy and take a look. CAKE makes it easy!