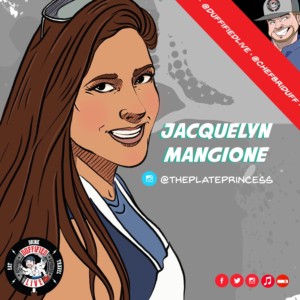 Jacqueline Mangione "The Plate Princess"
Jacquelyn Mangione, aka "The Plate Princess," and Chef Brian Duffy have been friends for about four years and it was a chance chat in the middle of a food show that brought these two like minded people together!
Jacquelyn is an avid traveler and eater with a passion for great meals and beautifully presented dishes. The conversation twists and turns as most of the Duffified Live episodes but this one has some fun plots twists you may not see coming!
Food, plate ware, cannabis farming, and grub tubs are just some of the topics you'll hear about on this week's episode of Duffified Live!
This week's episode of Duffified Live is presented by CAKE, which is is the Point of Sale system that lets bar & restaurant owners focus on the guest experience. Stop worrying about tracking every sale  – CAKE does that for you. You can automatically save information and review it later, from anywhere. That means you can actually take days off, which can be pretty rare in the restaurant business. So, restaurant owners, go to trycake.com/duffy and take a look. CAKE makes it easy!