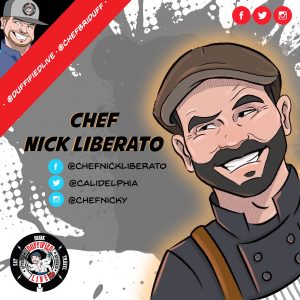 Chef Nick Liberato
Bar Rescue
This week, Chef Brian Duffy talks about his short yet crazy stay in Orlando, FL last week and he shares a conversation he had between his friend Rhonda, who is a huge "Batman" fan, and their Uber driver, who coincidentally was named Bruce Wayne.
After talking about a big event at his restaurant in Philly, the Flying Fish Crafthouse and Brewery, Chef Duffy is joined by his buddy, Chef Nick Liberato, who was also a part of Bar Rescue. The two talked his days honing his craft, his time on television, what it takes to survive the restaurant business, and his catering business, Calidelphia, which is based in Venice, CA.
The episode has it all…..Uber, fire breathers, and a world class chef. Who could ask for more?