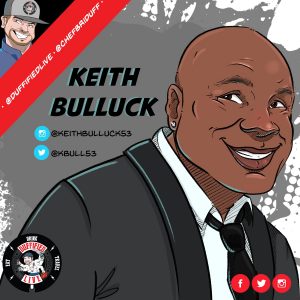 Keith Bulluck Former NFL LB
This week, Chef talks with former NFL linebacker Keith Bullock about football, food, family, and even a little Vegas!
Keith, drafted 30th overall in the 2000 NFL Draft by the Tennessee Titans, was a middle linebacker for the team for ten years and finished his career with the New York Giants. After spending his first two seasons as a backup and special teamer, he became a starter in 2002, made a Pro Bowl in 2003, led the NFL in tackles with 152 in 2004, and led the Titans in tackles five times.
In other words, the dude is a STUD.
Also on this week's show, Chef Duffy discusses Andrew Zimmern's acceptance speech at the 2017 James Beard Awards, where he and his brother were nominated for twice!
Game on, peeps!!! Don't forget to subscribe, rate, and review the show on iTunes and Stitcher!