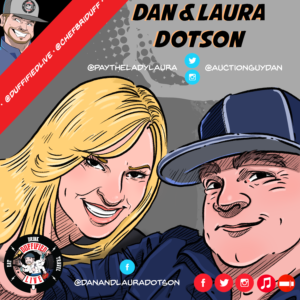 Auctioneers Dan & Laura Dotson of A&E's "Storage Wars" Auctioneers
In this week's Duffified Live, Chef Brian Duffy chats with the stars of "Storage Wars" on A&E, auctioneers Dan & Laura Dotson. They chat about the history of auctions, how they became auctioneers, their own auction website (StorageAuctions.net), and dish on some of the behind the scenes shenanigans of one of A&E's biggest reality shows!
Also, Chef chats about the inspirational trip he made to the Culinary Vegetable Institute for the Roots Innovate seminar with last week's guest, Farmer Lee Jones.