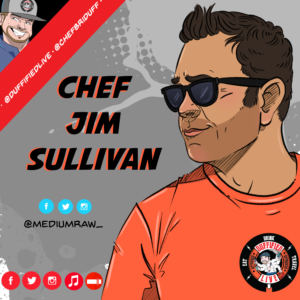 Chef Jim Sullivan Chef
This week, Chef Brian Duffy chats with Chef Jim Sullivan. Jim is a chef and food photographer based out of San Diego. The conversation is fast paced and touches on everything from cocktails, chefs and food, the different areas that the hospitality industry has taken them, and never realizing that this is what they would be doing when they first started. The guys have a long conversation about their odd meeting in Tijuana, the state of that city, the amazing things that are happening in Mexico, as well as the food scene that is creeping up and down both coasts.
Also, Chef Duffy rants about bar and restaurant consulting, how he is NOT trying to take a chef's job when he gets involved, and how he is NOT trying to steal the chef's recipes. He then talks about the new TV show, Bar Crashers, that he and friend/Bar Rescue alum Michael Tipps have created as well as the airing at The Nightclub & Bar Show in Las Vegas in March, 2018.