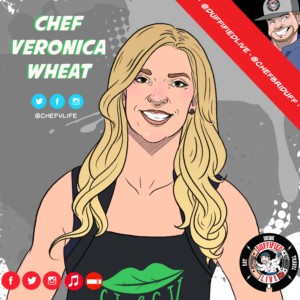 Chef Veronica Wheat & Alex Bowen Chef
HAPPY HAPPY NEW YEAR!! It's time for resolutions… wait, strike that, it's time for goals!! This week, Chef Brian Duffy talks about his New Years goals and even a few tips about achieving. This makes it a perfect time for a quick chat with Chef Veronica Wheatfrom ChefV Organic Cleanse. It's a new year so you may as well do a little detox and clean out that body! We're talking about health, diets & sleeping. The discussion gets pretty real!!!!
Then, imagine walking into a Waffle House at 3am and not seeing any staff. No servers. No cooks. No one. What do you do? SCREW IT! Cook it up yourself! Alex Bowen from South Carolina had this exact thing happen and we get to chat about it. He's a trip!
Happy new year!