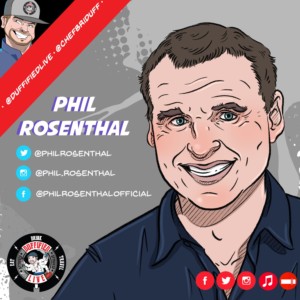 Phil Rosenthal Host of "Somebody Feed Phil" on Netflix
This week, Chef Brian Duffy is joined by longtime television personality Phil Rosenthal, creator and host of "Somebody Feed Phil" on Netflix. The show is a classic style of travel, food, and interaction but…… this was different. It's the type of show that made you feel all comfy and warm inside. It just gives you the feels. Chef sent a tweet, next was a phone call, and now he's on Duffified Live.
Born in Queens, Rosenthal moved to Los Angeles in 1989 and went on to write for hit shows "Down The Shore" and the award winning show "Coach" before creating a little TV series starring Ray Romano for CBS called "Everybody Loves Raymond" in 1996. "Everybody Loves Raymond" would go on to be nominated for over 70 Emmy Awards, winning 15 including two for Best Comedy Series in 2003 and 2005. He also co-wrote "America: A Tribute To Heroes," the 9/11 telethon that aired on all for networks in 2001 and authored the book "You're Lucky You're Funny: How Life Becomes A Sitcom."
This conversation leads into finding out about Phil and what makes him tick. The guys talk about his career in Hollywood and this new creative spin on traveling and digging deep into the culture, the people, and the food. Also, Chef finds out Phil's wife, Monica Horan, is from a Philly suburb and the mutual friends that they share.
This is a great episode that has a very friendly and positive undertone that makes this one of Chefs favorite interviews so far!
Thanks for listening!