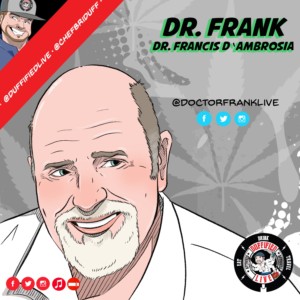 Dr. Frank D'Ambrosio "The Weed Doctor"
After a few nights out with a bunch of Duff's chef friends in Sacramento, he finds out that there is an online method to getting a medicinal marijuana rec card. From there, a conversation started with Doctor Frank of DoctorFrankLive.com.
After realizing the ties they each have to Philadelphia, a quick conversation ended up being a quality chat about everything under the sun! We find out about "dirty weed", the truth about rec cards, the differences in states, as well as the benefits of medicinal marijuana.
This episode will give you a buzz and a contact high for the simple fact that these two over the top characters have connected for a reason!