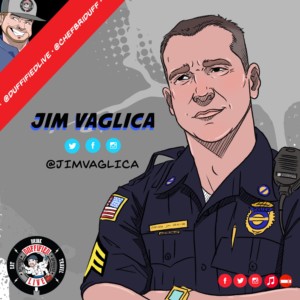 Jim Vaglica Retired Boston Police Sargeant
Imagine having all access to a cop of 32 years, SWAT for 16, a reality TV star, and a family man. Well, that's what you're gonna get with Jim Vaglica. We discuss what it was like being the inside line during the search and apprehension of one of the most hated kids in America…. we're talking about 19-year-old Dzhokhar Tsarnaev, the younger brother of the "Boston Marathon Bomber" and possible FBI informant Tamerlan Tsarnaev.
Chef and Jim talk about all things family, Police, growing up in Boston, and what the life of a cop was like before and after reality TV. Jim is a down to earth guy who has a few opinions on things that have affected us all in the past few years. He also talks about how he was partnered up with the cop who shot one of his buddies prior to him joining the force.
The conversation takes a few turns when Chef is asking questions about life in the line of duty, some of the worst scenarios that he has seen, as well as what it was like to be standing there for three hours while the suspect of the Boston Marathon Bombing was hiding under a tarp on a boat.
The conversation turns to the charity group called the Reality Rally in Temeculeh, CA., where reality stars from all over the country are paired with fans to run a race and ultimately win! Reality Rally is a charity that raises money for the "Michelle House," a place where women with breast cancer can get the medical attention that they need!
This is a great episode & im unbelievably excited to share this one with you!