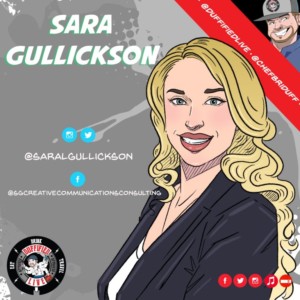 Sara Gullickson Medical Marijuana Activist
To have a well rounded discussion about a topic, especially one as important as cannabis, you need to get all the angles. So far we've spoken to a doctor, a chef, an imbiber & I feel that i need to get another angle, one from a very very wise and ambitious woman, "The First Lady of Cannabis."
Sara Gullickson is a nationally recognized cannabis expert who has been actively involved in the industry since its inception. A visionary entrepreneur with a passion for health and wellness, she established DispensaryPermits.com in 2010, a national cannabis consulting firm offering seed to sale services with hands-on support to cannabis entrepreneurs.
Based in Scottsdale, Arizona, DispensaryPermits.com is one of the longest standing medical marijuana consulting companies in the industry. As Founder and CEO, Sara has successfully secured multiple licenses for clients in ten state processes, as well as operational and dispensary opening experience from the East Coast to Hawaii. For new dispensary and cultivation licensees, Sara has developed a franchise style model where clients can learn how to operate a fully functional and compliant cannabis facility.
Sara has personally helped multiple states with their programming and has attended numerous political gatherings to raise medical marijuana awareness, both at Lobby Days in Washington, D.C, and at the Phoenix Capitol. At the forefront of one of the fastest growing industries in the nation, Sara has made it a priority to help other entrepreneurs succeed through educational endeavors and networking events.
Sara is a founding member Women Grow, a national organization created to connect and empower the next generation of cannabis industry leaders, and served as Phoenix chapter chair. During her tenure, the chapter expanded membership from 30 to its maximum of 80 members. Sara hosted monthly networking events that provided essential industry knowledge for those who were new to cannabis, and insight to those who were well versed in the industry.
Sara is also a renowned conference speaker. A featured speaker at the 2017 Women Grow Leadership Summit in Denver, she has also spoken at multiple national industry events, including 2017 Arizona Assessors Conference, 2015 MJ Business Daily event in Chicago, and the 2015 Cannabis World Conference & Business Expo (CWCBExpo) in Los Angeles.
Named an Arizona Trendsetter by Arizona Foothills Magazine in 2016, Sara has also been featured in numerous national media outlets, including: CNN, NBC, Fox News, National Public Television, Yahoo Finance, Entrepreneur, National Geographic, Dr. Oz, Forbes, Business News Daily, Phoenix Business Journal, Marijuana Business Daily, Direct Cannabis Network, Phoenix New Times, Ganjapreneur, the Chicago Sun Times, Crain's Business and others.
An industry innovator and thought leader, Sara continues to expand her business with the ever-evolving industry. Beyond her work in cannabis, Sara is an avid yogi who has completed 200 hours of Yoga Teacher Training. In her spare time, she advocates for new legalization measures and access to alternative wellness solutions.