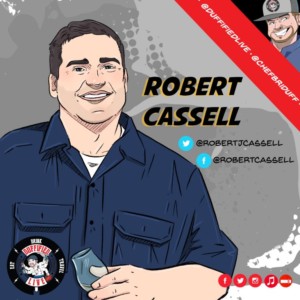 Robert Cassell New Liberty Distillery
Chef LOVES info! So, when he wants to know more about the process of distilling, he talks to his buddy Robert Cassell of New Liberty Distillery. This week, the conversation goes from beer into whiskey and even a few stories about riding Harleys, travel, and digs into the science and knowledge of what a "Master Distiller" does.
In 2004, Cassell and his uncle founded Philadelphia Distilling and he's never stopped innovating. His success enabled him to move on and establish a whiskey distillery called New Liberty Distillery in the Kensington neighborhood of Philadelphia in 2014. He also gone worldwide and become Master Distiller and founder of Connacht Distillery in Ballina, Ireland.
Cassell also has his Degree in Nuclear Medicine.