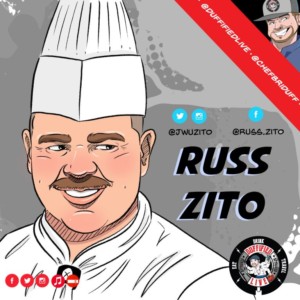 Chef Russ Zito Johnson & Wales University
After a few weeks of some R&R and sun poisoning, Chef Brian Duffy chats about his recent travels and even a few past guests after a crazy few months on the road.
He's heading to Spokane, WA to ride Harley's for the Crave Northwest Food Festival but first, he chats with Chef Russ Zito, a 21 yr culinary instructor with the acclaimed Johnson & Wales University. Chef Zito discusses the program, how he got involved, and even some war stories of his days in the kitchen, a salesman, and a math expert for his dads company!
This week, two chefs discuss the past, present, and future of culinary education. Where are we going? Only time will tell…….
This episode of Duffified Live is brought you by ForHims.com. Dealing with hair loss? Duffified Live listeners can get a trial month of HIMS for just $5 today right now while supplies last. See website for full details.