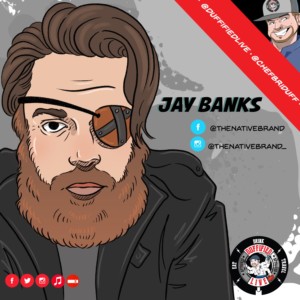 Jay Banks The Native Brand
This week on Duffified Live, Chef Brian Duffy is joined by a true entrepreneur at heart, Mr. Jay Banks of The Native Brand.
On a random night out in Cincinnati, OH, Chef meets up with this dude who's rocking frosted tips, stylishly dressed, missing a part of his ear, and sporting an eye patch. Chef thought to himself, "I'm totally gonna hang with that dude!"
Jay Banks is the owner & founder of Native Brand, a clothing brand that has taken off due to the perseverance of its owner. He founded the company in his living room and has taken things to the level now that he owns multiple trademark and patents not only to designs but to the actual word "native"
He's a great dude and a real "guy's guy." Jay has an incredible story and he shares his wild adventure on this week's Duffified Live!