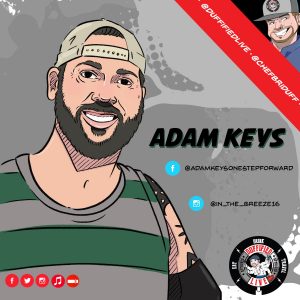 Adam Keys Retired Army Sergeant & Hero
Five years ago, Chef Brian Duffy was at an event for cystic fibrosis when he met an individual who made an impact on him. During the event, I was introduced to a gentleman named Adam Keys. As I approached Adam, I noticed that Adam was in a wheel chair. I was introduced and when I reached out to shake Adam's hand, I realized he had a bottle in his right hand and there was no left. Adam reached out his arm and I proudly shook it.
We talked for a while about my time on Bar Rescue, his time in the military, and the day that led to the amputation of both legs and his left hand.
Over the last few years, I've followed Adam's progress and a few weeks ago, a social media post grabbed my attention and I had to speak to him. This episode is the culmination of that!
Please listen to this episode. Learn about the willpower and determination of this truly wonderful dude! You've got to hear the story of how he was the remaining survivor of an IED blast that took the lives of five other warriors, including his best friend, and his pursuit to carry on the spirit of all of them and to honor them.
Adam will be climbing Mt. Kilimanjaro in a few weeks and we will hear all about the struggles and training that Adam will be facing.