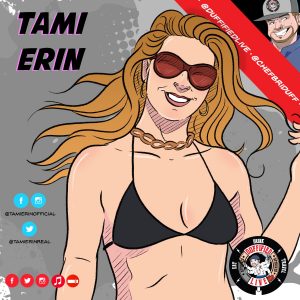 Tami Erin Actress/Model/Sexpert
When was the last time you spoke to a person who has done some really cool stuff? Imagine being 14 years old and cast in a movie that will span the test of time. A movie that, at the time just kinda sounded fun, opened the door to becoming a teen icon. Well, Chef Brian Duffy got to spend an hour talking with actress, model, singer, and fashion designer, Tami Erin. She is best known for her role as Pippi Longstocking in The New Adventures of Pippi Longstocking. It was released in movie theaters worldwide in 13 languages by Columbia Pictures
Tami is a woman on fire! Her life involves travel, eating an 80% raw diet and a 20% conventional "I eat what I want" diet, and EXPLORING LIFE TO THE ABSOLUTE FULLEST. Now in her 40's, Tami travels quite a bit, whether it be for an appearance, a private lunch (available on her website), or her new love of the island of Belize. She is ready to embark on the next level of her career.
No longer the 14 year old pig tailed, freckled ginger from 1988, she has deciding to take her career to a new level, an Rated R level, and is moving into a new level of photos and videos. Sparked by the release of a sex tape five years ago, she has decided that she wants to move into more of a Dominatrix and aggressive role and out of the G-rated game.
Chef and Tami discuss her sex positive life and her website business, which offers everything from signed copies of the movie to private dinners and dates. (The "date" thing may be put on hold now due to her newest relationship.)
Chef Duffy thoroughly enjoyed his entire conversation with Tami and knows you guys will as well!
Thanks for listening and don't forget to subscribe, rate, and review the show on iTunes and Stitcher!