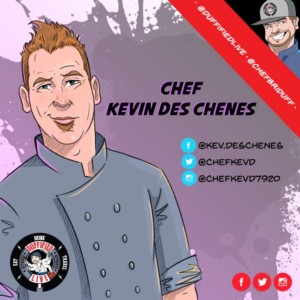 Kevin Des Chenes Duffified Live: Chef Kevin Des Chenes Returns!
This week on Duffified Live, Chef Kevin Des Chenes part deux!
Chef Brian Duffy and Des Chenes discusses his appearances on the new Food Network show "The Great Food Truck Race" and the challenges and fun that they had! They also discuss the wonderful world of travel & cooking, being a dad, a partner, the world of live demonstrations and sponsors, being on TV, and the constant grind of being on the road while trying to run an entrepreneurial life!
Also, Chef Kev and Chef Duffy will be live on stage together in October at The Taste Food Festivals in Philadelphia in October and in Lancaster, PA in November!
Thanks for listening and don't forget to subscribe, rate, and review the show on iTunes and Stitcher!