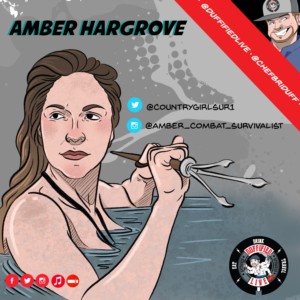 Amber Hargrove Contestant on A&E's "Naked And Afraid"
Chef Brian Duffy is always intrigued by anybody who does something that requires going above and beyond what the normal person will do. An athlete, an explorer, and especially someone who is a survivor….the type of person that can get out of a jungle with a jar of nails and a toothbrush. Someone who puts their bodies and their minds to the most extreme point and how do they come out of that???
This week on Duffified Live, Chef talks with Amber Hargrove, retired US Army Staff Sergeant, mom, wife, contestant on A&E's "Naked And Afraid," and all around incredible woman! Make sure to follow her on Twitter and Instagram!
This conversation is fun because it's simply two people who are talking about a will power and a desire to do something that makes you extraordinary. Plus, it's also a bit nutty as well!
This episode of Duffified Live With Chef Brian Duffy is brought to you by Vivid Seats. Vivid Seats is an online event ticket marketplace dedicated to providing fans of live entertainment with experiences that last a lifetime. Go to the App Store or Google Play and download the Vivid Seats app. Enter promo code INFLUENCE to receive 10% off your first purchase with Vivid Seats.