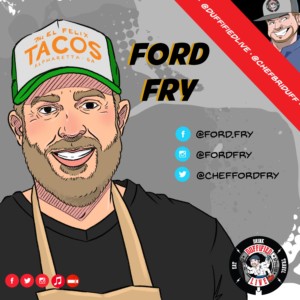 Chef Ford Fry Owner & Operator of 15 Restaurants
Standing in a field in Pasco, Washington discussing harvesting potatoes and socializing the current state of employment and work ethic in the food and service industry, Chef Brian Duffy was struck by the words, "I don't want to know how much my employees make." It made me stop and ask, "What does that even mean????" Well, it means that Chef Ford Fry was more concerned for the lives and happiness of his staff then he was with, "How much am I paying this guy? Am I getting my moneys worth?"
Ford is a Texas born, Vermont educated good dude who just so happens to own and operate fifteen restaurants after backing away from the kitchen because he felt a connection with the front of house that allowed him to create on a higher level than just the food. It was a connection that made a direct impact to his guests and his employees.
Chef Fry has some great philosophies about the industry and the current state in which we are all witnessing. Hope you guys enjoy this great conversation!
This episode of Duffified Live With Chef Brian Duffy is brought to you by Vivid Seats. Vivid Seats is an online event ticket marketplace dedicated to providing fans of live entertainment with experiences that last a lifetime. Go to the App Store or Google Play and download the Vivid Seats app. Enter promo code INFLUENCE to receive 10% off your first purchase with Vivid Seats.