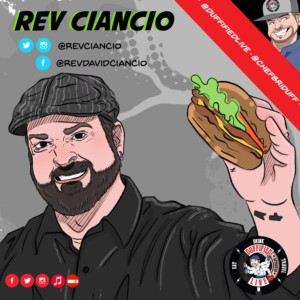 Rev Ciancio Social Media and Marketing Expert
I truly hope you not only like this this week's episode of Duffified Live but I hope you use some of the amazing info that Rev offers!!
As a PURE social media and marketing expert, Rev Ciancio has grown three social media accounts to become the three largest followed groups of their kind on Instagram:
@FunWithFries
@Theburgeratti
@steakclub7
Listening to Rev talk about marketing is like watching a chef with MAD Knife skills. His passion for the industry is unmatched, his intensity and opinions are well thought out and educated AND he knows his food, his burgers, his fries, and his steaks.
We open up the books on all of this through with a conversation that was a great balance of knowledge and entertainment! I'm a big fan of Rev and I hope after this, you will become one as well!
This episode of Duffified Live With Chef Brian Duffy is brought to you by Vivid Seats. Vivid Seats is an online event ticket marketplace dedicated to providing fans of live entertainment with experiences that last a lifetime. Go to the App Store or Google Play and download the Vivid Seats app. Enter promo code INFLUENCE to receive 10% off your first purchase with Vivid Seats.