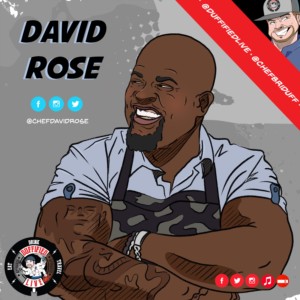 David Rose TV & Celebrity Chef
Chef David Rose and his biceps seem to be all over the place these days and I love seeing it. I am a fan of watching great people do fun things. David is a graduate of Le Cordon Bleu and the Four Seasons Atlanta. He's a a chef who spends time sharing his love of food with everybody around him. Whether it be in a Big Green Egg, on the seat of a Harley, or in a Nissan Titan, this titan is a great dude and a force in the culinary world!! This week, Chef Brian Duffy and David talk about culinary school, traveling, and family history that should keep you interested!
David was raised with a diverse and curious palate. Born in New Jersey to two chef parents, his culinary interest led him to enroll in Le Cordon Bleu Culinary College (Tucker, GA), where he graduated Summa Cum Laude. Living in Atlanta for more than a decade, Chef Rose finds inspiration in his surroundings and identifies as a southern chef, creatively reinterpreting classic southern fare by incorporating the refinement of his french culinary training, with his signature bold flavors, and the occasional flair from his family's Jamaican recipes.
He is a Food Network/TV personality and serves as a national brand ambassador for Nissan USA and Big Green Egg. Rose is also the founder and creator of the TLC Experience (Tastings • Libations • Cigars), where he partners with spirits and cigar companies to create extraordinary dining experiences. Recently, he has been named as a brand ambassador for Davidoff/Camacho Cigars.
Last year, Rose appeared as a finalist on Food Network Star (Season 13), cooking head to head with Bobby Flay and fielding praise from Giada de Laurentiis. Chef David Rose is a regularly appearing guest chef on The Steve Harvey Show, Hallmark Home & Family, Pickler & Ben, HLN, Sisters Circle Live, Fox & Friends, local morning shows across the country, and as a celebrity chef judge for the CBS Chef's Classic.
As a private and special events chef and caterer, Chef David Rose works with high profile and professional clientele. Outside of the kitchen, he continues to draw culinary inspiration from his frequent travels.
This episode of Duffified Live is brought to you by Care/Of. It's a monthly subscription vitamin service that delivers completely personalized vitamin and supplement packs right to your door. For 50% off your first month of personalized Care/Of vitamins, go to TakeCareOf.com and enter DUFFIFIED50.
This week's episode of Duffified Live is presented by CAKE, which is is the Point of Sale system that lets bar & restaurant owners focus on the guest experience. Stop worrying about tracking every sale  – CAKE does that for you. You can automatically save information and review it later, from anywhere. That means you can actually take days off, which can be pretty rare in the restaurant business. So, restaurant owners, go to trycake.com/duffy and take a look. CAKE makes it easy!