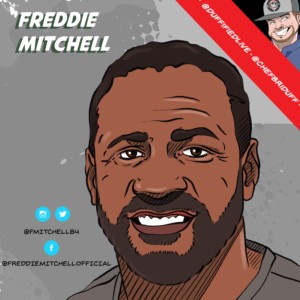 Freddie Mitchell Former Eagles WR Draft Pick
4th and 26.
Anybody who lives in Philly knows what 4th and 26 means and all other sports fans outside of Philadelphia know the name Freddie Mitchell for his dislike of Donovan McNabb and his hardcore attitude regarding the NFL.
Freddie and Chef Brian Duffy sat for a bit to chat about his earlier days in the game, excelling in multiple sports, and his final decision to go to UCLA to play football. After one injury and final recovery, Freddie made the decision to go pro after just three years of college. As a first-round draft pick of Philadelphia, Freddie played four years for the Eagles and played for a few other NFL teams but "never really got the accolades that he deserved."
Freddie is a HUGE personality whom Chef Duffy has become friends with. Now, Freddie is working on a charity center in Philly as well as a few secret recipes that are in development for a launch in the fall.